Dan Marotta
Lead Vocals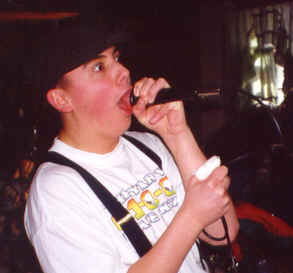 Dan sings for the band. Dan just moved here in 99. He has also lived in Eastie and Dirty D (Dorchester, for those of you not from around here). He used to play drums for a band called One2Many but that fell through when some of its members moved back home. Even though he plays the drums, he is not supposed to because of a shoulder injury. Here's what Dan has to say:
"Oi!"
Anything else Dan?
"Yeah. I hate cops, the government, crustys, and posers at the shows, fuck them all!"
Wow, Dan! That was deep! Dan's favorite bands include Bouncing Souls, Dropkick Murphys, Kicked in the Head, Goonies, and the Casualties.
P.S.- "H2O IS THE WORST BAND THIS WORLD HAS EVER SEEN"
E-mail Dan.

forward to Brian's bio