Josh Kehoe
Bass Guitar and Vocals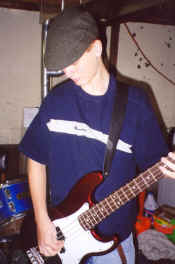 Josh Kehoe plays the bass guitar and sings for the band. Josh likes to write songs. He loves Aerosmith, the Doors, Jimi Hendrix, The Bouncing Souls, H2O, Kicked in the Head, Dropkick Murphys, The Casualties, and a lot more new and old. He played keyboard for the band for 2 years and switched to the bass. Josh is 16 now but he started to play the piano/keyboards when he was only 11, he started to play the bass in 1999. Some of his inspirations are Ray Manzeric (the Doors), Eric Wilson (Sublime,LBDAS), and Matt Freeman (Rancid). This is what he has to say:
"I would like to say that I love to play with FHA. They kick ass! Punk is the only way of life. Punk will live for ever; but you won't. You piece of trash!!! Im proud to be IRISH. Get a scally cap"
Well isn't that nice. He sounds really smart.
E-mail Josh

forward to Veazie's bio

back to Brian's bio